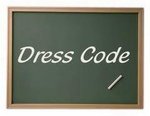 There is a definite relationship between good dress habits, good work habits, and proper student behavior; therefore, dress and grooming of students are proper concerns of school administrators and teachers. The school district recognizes that parents and students share the responsibility for proper student dress and appearance. Any type of dress or appearance (i.e. not limited to make up and/or hair color) which attracts undue attention to the student and creates a disturbance in the learning environment is in bad taste and is not acceptable.
Girls' tops: All tops must be red, white, or gray. Styles allowed are short or long sleeve polos,short or long sleeve oxford/blouse, and sweaters.All undershirts must be red, white, gray, or black.
Girls' bottoms: Khaki or black pants, shorts, capris, skirts, or skorts. Shorts, skirts, and skorts must not exceed 4 inches above the knee. No spandex, polyester, or other tight fitting bottoms.
Boys' tops: Red, white, or grey short or long sleeve polo or button-up/oxford shirt. All undershirts must be red, white, grey, or black.
Boys' bottoms: Black or khaki shorts or pants. A belt must be worn THROUGH BELT LOOPS, properly fastened, and NO SAGGING will be tolerated. "Joggers" WILL NOT be allowed.
Footwear: All shoes must be properly tied or fastened. No house shoes, slippers, or shower shoes.
Outerwear: Jackets/coats can be no longer than mid-thigh. No dusters, trench coats or long coats allowed. Jackets, coats, lightweight sweaters, sweatshirts, and hoodies must be in school colors (red, white, gray) or solid black or khaki. There can be no lettering on outerwear. The logo on any outerwear can be no larger than 2 inches. School letter jackets are allowed.
Any type of clothing or accessories that are, in the opinion of the principal, obscene, suggestive or inappropriate are not acceptable. No holes, cuts or tears are permitted.
*Hair Color - MUST be a natural hair color....blonde, brown, black, natural red.

*The ONLY piercings will be in the ear. NO tongue, lip, eyebrow, nose, etc. Nose rings MAY NOT be covered up with a Bandaid. They must be removed.
*Skirts WILL BE CHECKED. They must be no shorter than 4" above the knee.
*A red, white, or grey polo shirt must be worn Monday - Thursday. School-approved t-shirts may be worn on Fridays.